The Pennsylvania Department
Government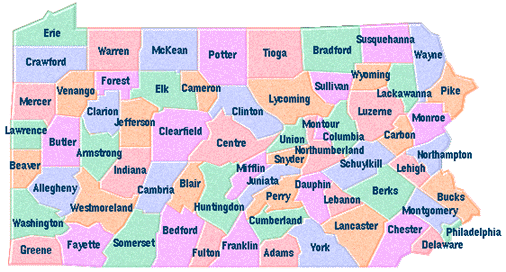 "...you shall be governed by laws of your own making, and live a free, and, if you will, a sober and industrious people. I shall not usurp the right of any, or oppress his person; God has furnished me with a better resolution, and has given me his grace to keep it." -- William Penn
---
Defines ElectriChoice and provides a list of electricity suppliers.
Maps, information, and rail contacts.

Department of Revenue - Tax Forms

View and print Pennsylvania state tax forms, instructions, and publications.

Pennsylvania Department of State
Bureau of Professional and Occupatinal Affairs
License Verification

The House, the Senate and the State Capitol Building.

Pennsylvania House of Representatives

Pennsylvania General Assembly - Electronic Bill Room

Track the progress of bills in the State House or State Senate.

Pennsylvania Treasury: Unclaimed Property

Treasury maintains perpetual custody of unclaimed property until it is claimed by the rightful owner, or his or her heirs.

Department of Health - Health Statistics

County health profiles, vital statistics, cancer incidence, and more.
.

Department of Education - School Profiles

Lists all schools in Pennsylvania and provides enrollments, staffing, test scores, and programs.
The Commonwealth's official gazette for information and rulemaking.
Includes State Contracts Information.
The Pennsylvania Code is an official publication of the Commonwealth of Pennsylvania. It contains regulations and other documents filed with the Legislative Reference Bureau under the act of July 31, 1968 (P. L. 769, No. 240) (45 P. S. §§ 1102, 1201—1208 and 1602) and 45 Pa.C.S.Chapters 5, 7 and 9, known as the Commonwealth Documents Law (CDL). It consists of 55 titles.
The League is the premier national grassroots organization that provides accurate, nonpartisan information about candidates, issues and elections and has an impeccable reputation.
Pennsylvania's Unified Judicial System's role is to preserve the rule of law
and guarantee the rights and liberties of citizens.
---
---
---