The Pennsylvania Department
Who Is Pa Pitt?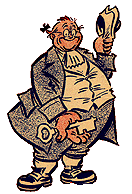 Pa Pitt (or Father Pitt as he is also known) is the personification of the spirit of the city of Pittsburgh. Since his birth sometime in the 1890s, he has had many incarnations. In fact, prior to Pa Pitt, the city had a feminine persona--Miss Pittsburgh--whom one critic, in 1906, described as "a self-respecting 'sweet thing,' who must ignore scandals, and be above the little vexations of common life." In his various forms, Pa Pitt was never the property of any one newspaper or institution. Over the years Pa Pitt served the interests of several editorial cartoonists, but perhaps the most definitive representation and certainly the one still most familiar to many Pittsburghers is Cy Hungerford's portly, good-natured old Colonial. Just perhaps--as the city enters on a new millenium--one of the Pittsburgh District's numerous and talented artists can create a new Pa Pitt for a new century?
Pa Pitt in Other Guises
98K Canfield

73K Jamieson

76K Johnston

83K Shiras

78K Johnston

85K Frazier

57K Payne

95K Rigby

Cy Hungerford
"Father Pitt in Cartoons" by Raymond Gros
"A. G. Burgoyne Is Dead After Brief Illness"
"Worthy Tribute to Town Poet" -- Arthur Gordon Burgoyne, Sr.
---
For Further Reading:

Andrews, J. Cutler.

Pittsburgh's Post-Gazette: "The First Newspaper West of the Alleghenies."
Boston: Chapman & Grimes, 1936; reprint, New York: Johnson Reprint Corporation, 1969. page 255.

Batz, Bob, Jr.

"Mascots Come in All Ages, Shapes."
The Pittsburgh Press, 12 January 1992, J1.

"'Pa Pitt' May Be City Mascot."

Pittsburgh Post-Gazette, 16 February 1988, 5.
---
---
---