Joseph Stella's Pittsburgh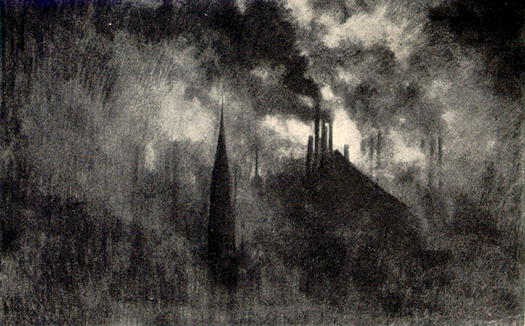 ---
By Stephen May in Carnegie Magazine July-August 1991.
I was greatly impressed by Pittsburgh. It was a real revelation. Often shrouded by fog and smoke, her black mysterious mass--cut in the middle by the fantastic tortuous Allegheny River and like a battlefield, ever pulsating, throbbing with the innumerable explosions of its steel mills--was like the stunning realization of some of the most stirring infernal regions sung by Dante.
So wrote artist Joseph Stella, recalling his first visit to Pittsburgh in 1908 on an assignment to "draw steel mill workers and miners" for The Survey (1909-14). These superb charcoal drawings and other works, inspired by what was then America's greatest industrial city, are among the finest of Stella's long, varied and underappreciated career.
The Carnegie Museum of Art is fortunate to have several of Stella's early images in its collection, along with an industrial view of New Jersey and several of his pioneering collages. They reveal a master craftsman at work in several media and also offer evocative glimpses of a bygone Pittsburgh.

Stella's Pittsburgh renderings are but a part of the huge and varied oeuvre of this volatile, multi-talented artist. By any measure he was one of the most versatile and imaginative--as well as inconsistent--American artists of this century. His career was marked by an unquenchable artistic curiosity and a relentless quest for artistic freedom, which led him into and out of a variety of styles, media and subjects. "My attitude toward art," he wrote in 1929, "is for independance [sic]...Art escapes any definition...innumerable are the roads leading to Art--but great is the joy of venturing through virgin soils." In following the "innumerable roads" of his restless artistic temperament, Stella left a body of outstanding work that is only today being appreciated in its entirety.

Because Stella is the American most identified with the Italian Futurists of the early 20th century, his substantial achievements in other areas have been somewhat overshadowed. With the buoyant confidence of an accomplished artist, he excelled in many styles and media and depicted a variety of subjects. His work was so diverse that it has often fallen between the cracks in art histories.
Stella studied the art of the Old Masters and his contemporaries, found inspiration in the writings of Edgar Allan Poe and Walt Whitman, and was intrigued by metaphysical ideas. Above all, he relied on his own imagination to create works that are truly individual.

Stella was born in 1877 in a mountain town in southern Italy, and in 1896 he emigrated to New York. He is not related to Frank Stella, the contemporary superstar artist. After a brief fling with medical studies, Joseph Stella trained for two years at the New York School of Art under painter William Merritt Chase, who instilled in him the value of artistic experimentation and an appreciation for the Old Masters.
Fascinated by the urban melting pot around him, the young Stella began to depict fellow immigrants, laborers, vagabonds and characters from New York's lower East Side in fine drawings that showed the "crude side of their life," as he put it. About this time he created a deft pen-and-ink self-portrait, which was recently discovered in his brother's former home in New Jersey. In it he peers at the viewer from beneath his visor in the traditional pose of the artist at his easel. Both the composition and skillful rendering suggest a young man in his 20s, confident of his calling and his future.

In 1905 Stella produced for the social reform weekly The Outlook, a series of illustrations of immigrants at Ellis Island, entitled "Americans in the Rough." This group of pencil-and-charcoal character sketches from life--precise, carefully shaded and filled with empathy for their subjects--reflected a strong Old Master influence.
Other commissions followed. In 1907 another social welfare publication, Charities and Commons--which later became The Survey--dispatched him to Monongah, West Virginia, to illustrate an account of the mine disaster that had wiped out half the working population of the town. Stella was deeply moved by the human tragedy he encountered, and his powerful drawings of sooty survivors, intrepid rescue workers and distraught families enhanced the periodical's plea for improved mine safety laws.

The following year Stella was commissioned by The Survey to illustrate "The Pittsburgh Survey," an ambitious investigation of what were termed "conditions of life and labor of wage-earners of the American steel district." The series of articles examined transportation, courts, charities, housing, water supply, public health and prejudice against immigrants. Also profiled were the works of members of the Civic Improvement Commission (including H. J. Heinz). The tenor of the stories is suggested by their titles: "Skunk Hollow: A Pocket of Civic Neglect in Pittsburgh," "Painters' Row: The Study of a Group of Company Houses and Their Tenants," and "Thirty-Five Years of Typhoid." The Survey concluded by calling for enforcement of stricter working and housing regulations, improved medical services and educational opportunities, and tolerance and acceptance of the workers themselves.

While on this assignment Stella produced 100 drawings, about one-third of which accompanied Survey articles. In haunting, compelling works, a number of which were exhibited at the Carnegie Institute in 1910, Stella captured the dangerous working conditions, squalid living quarters and careworn faces of immigrant steelworkers, as as well as the muted beauty of bridges, churches and mills silhouetted against murky skies.
Writing in the third person years later, Stella indicated that his ambivalence about Pittsburgh was mirrored in his pictures:
In them, the artist succeeded to portray the spasm and the pathos of those workers condemned to a very strenuous life, exposed to the constant MENACE OF DEATH. Besides, he discovered for himself the aesthetic beauty of Pittsburgh and surroundings as a landscape, beauty lying in the arabesque forms given by the structures of those huge volcano-like steel mills, emerging from the fluctuating waves of smoke and fog, with an eloquent mystery.
Stella's descriptions of the city varied with his moods. Sometimes his handling was romantic and impressionistic, with forms half consumed by the hazy ambience, in keeping with the "eloquent mystery" he often felt. Bridge (c. 1908), which is in The Carnegie's collection, Chimneys, Pittsburgh (c. 1908) and Pittsburgh, Winter (c. 1908) are mysterious, atmospheric charcoal compositions that reflect the tonalist influence of James Abbott McNeil Whistler, as well as the contemporary soft-focus style of photographer Edward Steichen. Although very much aware that smoke and crowded conditions imposed severe hardships on Pittsburgh's working men and women, in these drawings the artist tended to romanticize, to search out beauty and positive symbolism where others saw ugliness. "He was always trying to project a spiritual element in his pictures," notes Stella scholar Joann Moser, curator-in-charge of graphic arts at the National Museum of American Art in Washington, D. C.
Even in Hole in the Wall or Painters' Row: Dark Bedroom and Pittsburgh, Interior, also dating to around 1908, Stella's subtle shadings give a Whistlerian tone to the dark, foreboding workers' hovels. Such nuances were probably lost on readers of the accompanying expose.
Similarly, a warm, protective glow appears to envelop Old Man Sleeping in a Field (c.1908), a delicate gouache and chalk work owned by The Carnegie. Somehow, the aged vagrant comes across as an independent, free spirit, rather than as a sad, homeless person. More often, a starker reality prevailed in Stella's drawings, strongly reinforcing The Survey's text.
One of his most powerful images was Miners (c.1908), a highly finished small charcoal purchased by the Yale University Art Gallery from a fund provided by the late Senator John Heinz of the class of 1960. The two memorable faces, presented with compelling and evocative sympathy, mirror the dangerous and difficult toil mandated by their occupation.
For some reason, Miners was not published in The Survey. Helen A. Cooper, curator of American paintings and sculpture at the Yale Gallery, has speculated that it was "judged to be too intense, threatening and without enough 'safe' distance from the viewer" to fit the editor's intention of presenting the "despised and feared immigrant worker as an appealing figure." At any rate, it is hard to disagree with Cooper's evaluation that "Miners is an image imbued with a sense of honest labor, dignity, even grandeur, under the burden of inhuman toil, arousing in the viewer the same sympathetic response which the writers hoped to evoke with their words."
Gauging the quality of Stella's early drawings, John I. H. Baur, onetime director of the Whitney Museum of American Art, has written that "in sheer technical brilliance they surpass anything of the kind in America at that time."
Returning to Europe for several years prior to World War I, Stella immersed himself in the intense artistic ferment of that period. His interest in color and painting was stimulated by exposure to Cubism, Fauvism and particularly Italian Futurism, which sought to capture the speed and energy of modern life by depicting objects as if in motion. He shared the Futurists' enthusiasm for the wonders of mechanization, industrialization and technology, which were transforming Europe and America.
Back in New York around the time of the Armory Show of 1913, Stella resolved to build a bridge between European painting and the American experience. His major breakthrough came with his dazzling Battle of Lights, Coney Island (1913), a kinetic, kaleidoscopic canvas whose circular composition and garish colors suggested the raucous hedonism that pervaded the famous amusement park at night.
Infatuated with the soaring grandeur of an outstanding New York symbol of American technology and creativity, he painted Brooklyn Bridge (c.1919). The painting is a landmark of American modernism and his most celebrated work. In this single semi-abstract canvas Stella fused mystical fervor with modern engineering prowess in an unabashed celebration of the romance, exuberance and vitality of 20th-century American city life.
These and other Futurist odes to the energy and dynamism of his adopted homeland stirred considerable interest and controversy, catapulting Stella from obscure illustrator to conspicuous avant-garde painter. They not only made Stella famous, but they earned him a place among the most important early Modernists: Arthur Dove, Marsden Hartley, John Marin and Max Weber.
The industrial scene that fired Stella's imagination in 1908 continued to fascinate him a decade later, around the time he was painting Brooklyn Bridge. A number of images grew out of return visits to Pittsburgh, as well as to Bethlehem, Pennsylvania; Buffalo; and New York, to illustrate a series for The Survey on the homefront war effort.
In forceful drawings depicting shipyard and airplane factory workers, women sewing uniforms in sweatshops and laborers dwarfed by machinery in steel mills, Stella showed how immigrants "worked shoulder to shoulder in the war effort." In interpreting what he found "underneath the grime and overalls," the artist emphasized the dignity and often monumentality of working people. Particularly memorable is the large-scale, muscular figure of The Furnaceman, accompanying a 1919 article entitled "Bethlehem: Not of the Shepherds, But of the Steelmakers." Several Whistlerian drawings, reminiscent of his earlier Pittsburgh pictures, depicted the dark, smoky skylines of industrial cities.
In an even more ambitious group of charcoal, gouache and pastel portrayals of factories, smokestacks, gas tanks and telephone poles, Stella glorified the vibrating power and intrinsic attractiveness of modern technology. Drawn with exactitude and compelling massing of darks and lights, they transformed mundane industrial landscapes into starkly elegant compositions whose dark, abstract forms look menacingly against austere skies.
In a striking pastel entitled, Pittsburgh (c. 1918), a bridge, telephone poles and industrial buildings are forcefully juxtaposed against a smoky horizon. In another wonderful pastel, Night Fires (c. 1918-1920), the dramatic orange and red sky underscores the theatricality of a scene crackling with industrial power and energy. The radiating wires and simplified forms of the colorful gouache, Telephone Pole (1917) constitute a hybrid of abstraction and realism. In Coal Pile (c. 1918-1920), a delicate yet strongly observed charcoal, the great, swelling mass of coal is balanced by the delicate, gracefully rendered bridge. There are mighty forces at work in the modern world, Stella seems to be saying in these pictures, and they are shaping the destinies of people and nations.
These bold, simplified compositions, with their sharp contrasts, smoothly modulated contours and generalized forms, anticipated the industrial themes and geometric structures favored by the Precisionists a few years later. But whereas Stella was motivated by his intuitive, romantic responses to the industrial scene, Charles Demuth, Charles Sheeler and other Precisionists adopted a more analytical, objective approach. Stella typically did not pursue the style after the early 1920s.
At the same time that he was celebrating the grandiose, energetic, mechanized aspects of the city, Stella was also attracted to its anonymous, unnoticed, seemingly inanimate discards. For several decades starting in the 1920s he mounted ragged scraps of urban debris in irregular, mysteriously expressive designs quite unlike anything anybody had done before. Often consisting of odd bits of paper found in a gutter and assembled in abstract compositions infused with highly evocative and personal symbolism, these collages, which were never exhibited in his lifetime, are regarded today as Stella's greatest innovation.
Collage No. 8 (c. 1922) and Collage No. 24, Shovel (c. 1920-1922), in The Carnegie's holdings, are good examples of Stella's ability to transform what art historian Abraham A. Davidson has called "the detritus of human existence" into something beautiful and precious. Stella's scores of pioneering collages affirmed his faith in the power of art to supersede materialism.
By the 1920s Stella was widely regarded as a leader of the American avant-garde, and was a critical and financial success. In many ways it was the high point of his career. The remainder of his life was marked by frequent travel abroad, a relentless search for creative liberty, and an eclectic output that demonstrated his diverse talents, but reduced his visibility and reputation in the art world. As he once wrote:
From 1921 on I was swinging as a pendulum from one subject to the opposite one. With sheer delight I was roaming through different fields spurned [sic] by the inciting expectation of finding thrilling surprises....I complied without any reserve with every genuine appeal to my artistic faculties...trampling those infantile barricades erected by tottering self-appointed dictators infesting the art fields....
As critic Hank Burchard observed in the Washington Post last year, "Stella not only marched to the beat of a different drummer, he was a one-man band." The contradictions and incongruities in his art were revealed in works that run the gamut from realism to abstraction to surrealism. In this last quarter century of his career Stella created delicate portraits, bold botanical studies, complex symbolist pictures and colorful still lifes. Working with masterful facility in oil, pastel, watercolor, gouache, pencil, charcoal and silver point, he depicted images as diverse as Marcel Duchamp, birds, flowers, fruits, Italian villages, North African landscapes and West Indian forests.
In Song of Barbados, a splendid large oil canvas owned by Mr. and Mrs. James A. Fisher of Pittsburgh, Stella utilized the central axis, symmetrical pattern, graceful forms and rich colors in one of his trademark tropical fantasies.
Stella was peripatetic and volatile, and his personal life was equally unsettled. Although married for years, he and his wife lived apart frequently and he had a number of mistresses. An animated conversationalist with a bombastic personality, he made many friends--and enemies. Describing him in 1926 a friend noted "his huge dome pierced by two black mobile eyes of liquid lava...a stubby nose and a large, articulate mouth...all planted on a large, robust neck firmly attached to a dynamic torso." In self portraits from his later years he looks like a cross among Marlon Brando, Truman Capote and Fiorello LaGuardia.
In his mature years Stella spent increasingly lengthy periods in Europe, culminating in a six-year trip from which he returned in 1935 to discover the American art world had passed him by. Spurning urban realism and the regionalism of the American Scene movement--the reigning American art styles of the time--he was clearly out of step with the mainstream. To make some money he undertook projects for the WPA, and spent a good part of his final years reworking earlier subjects and themes. To the end he worked with awesome energy, undiminished optimism and fierce independence in a multiplicity of styles and media.
By the time he died in 1946 he was pretty well out of sight. Commentators expressed perplexity about how to evaluate his seemingly enigmatic, stylistically diverse body of work. It was, Baur commented, "a nightmare for the art historian." Because it was impossible to pigeonhole Stella in any particular movement or group, he tended to be ignored.
Starting around 1970, art historians and museum curators, unfazed by the difficulty of identifying him with any single classification, began to pierce the Stella enigma. Many have come to regard the variety of subjects, styles and media in which he worked as a plus, the singular vision of an individual artist of quality and importance. As Baur, who helped launch the resurrection of Stella's reputation, wrote in 1971: "He belongs to no school or movement, [and] defies classification; there is no painter at all like him in the whole of American art." Today, Stella's place in American art history seems secure, if somewhat imprecise.
The astounding variety and high quality of his works on paper were revealed in last year's exhibition, Visual Poetry: The Drawings of Joseph Stella, at the National Museum of American Art. In her valuable catalog, curator Joann Moser emphasized that "Stella's reputation as America's foremost Futurist painter has so dominated our perception of him that the rest of his work is often seen as little more than a footnote." In fact, Moser pointed out, "To appreciate the breadth of Stella's artistic vision, it is essential to look beyond the epic canvases to the lyric poetry and free verse of his drawings."
Stella's early drawings of Pittsburgh and his trailblazing collages, like those in The Carnegie Museum of Art, are reminders of the gifted touch of a remarkable artist. As his entire body of work is examined in the years ahead, it will become increasingly clear why Joseph Stella can be ranked among the titans of 20th-century American modernism.
---