The Photographers: Esther Bubley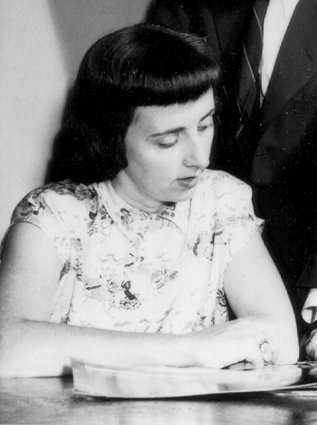 ---
Revised 18 July 1998. blc

Esther Bubley was born in 1921 in Phillips, Wisconsin. She became interested in photography early on in her life and left home in the late 1930s to study at the Minneapolis School of Design, specifically for their one-year photography program. Bubley was especially intrigued by documentary photos taken for the Farm Security Administration (FSA) that were currently being published in various magazines. In 1940, Bubley moved to Washington, D.C. to pursue work as a photographer and went on to New York, where Edward Steichen helped her land a temporary position at Vogue magazine.

Back in Washington in 1941, Bubley was hired as a microfilmer in the National Archives. Several months later, she was hired by Roy Stryker as a lab technician for the FSA darkroom. Bubley began taking photographs on the side and eventually was sent on assignments for the FSA. Later, she would accompany Stryker from Washington to Standard Oil's headquarters in New York for SO's photography project.

Esther Bubley left the SO project in the late 1940s to work on assignments for Life magazine. In 1950, she joined Stryker's staff at the Pittsburgh Photographic Library. One of her assignments required that she reside for a time at Children's Hospital. Later, Bubley returned to the magazine and continued working as a freelance photographer after Life stopped publication in 1972. She has also photographed illustrations for numerous books.

An exhibition of her work entitled, "Esther Bubley on assignment: photographs since 1939" was organized in 1989 at the CEPA Gallery, State University of New York at Buffalo. Of her photographs, it is said that "Esther Bubley's work had a great warmth to it as far as people were concerned. She was interested in humanity."

Sources: Roy Stryker: U.S.A., 1943-1950 by Steven W. Plattner (1983), and Let Us Now Praise Famous Women: women photographers for the US Government, 1935 to 1944. by Andrea Fisher (1987).
---
In addition to her images in the Pittsburgh Photographic Library, substantial holdings are maintained at the University of Louisville Photographic Archives, the New York Public Library, the Rosenback Museum & Library (PA), and the Amon Carter Museum (TX). Modest holdings are housed at the Carnegie Museum of Art, the George Eastman House (NY), the Harry Ransom Humanities Research Center (NY), and the International Center of Photography in New York City.
---
Visit the Esther Bubley Homepage.
---
Photographs by Esther Bubley

pd
---